FREQUENTLY ASKED QUESTIONS
Is EquiGreen similar to fodder?
Equigreen is a sprouted barley grass grown under rigorous quality control standards. While many fodder systems allow for consumers to grow their own feed, they lack the state-of-the-art facilities, premium seeds and water treatment that we use to ensure the highest level of clean, nutritious growth.
Each of Halona Farms' delivery areas are serviced daily, so you receive EquiGreen grass sprouts every day. Contact Halona Farms directly to find out if you are within one of our delivery regions.
How long will it take my horse to adapt to incorporating EquiGreen into my feeding regimen?
As with any feed transition for horses, we generally recommend between 5 and 7 days of gradual adaptation. This can vary by animal and may take more or less time depending on how much pasture forage they get. We also advise consulting with your veterinarian.
With EquiGreen, would I continue with my current level of supplementation?
Because of the many natural nutrients found in EquiGreen, many horses can reduce their need for additional supplements. Halona Farms would recommend consulting with your veterinarian or equine nutritionist to determine the optimal supplement levels for your horse's diet.
Most horse owners experience a reduction in their overall feed costs by transitioning to a diet that incorporates EquiGreen. The amount of savings will vary depending on the current prices of hay and grain in your area.
How do I get started receiving EquiGreen deliveries?
Fill out our order form and one of our Halona Farms representatives will contact you to set up your delivery schedule. We offer EquiGreen based on a monthly subscription that can be canceled at any time.
Where do your barley seeds come from?

We grow our own seed, TAMBAR 501, which was developed by Texas A&M and has proven to be one of the most nutritious seeds for barley grass feed.
If I live outside the delivery area, is pick-up available?

Give us a call to discuss your needs and we will do our best to accommodate and pickup is available.
Where is Halona Farms located?
We are in Wellington, Florida, serving the South Florida area. We welcome farm visits!
Can I feed EquiGreen to a horse prone to colic and other digestive issues?
EquiGreen is a great choice to help prevent digestive issues. We are happy to discuss your horse's needs with you and your veterinarian to ensure the best results.
"CHANGING THE FEED INDUSTRY"
Halona Farms is producing the most amazing feed, in state-of-the-art facilities, that is revolutionizing how our clients look at providing quality nutrition for their horses. Order your very own supply of EquiGreen Sprouted Barley Grass feed and experience the Halona Farms difference for yourself.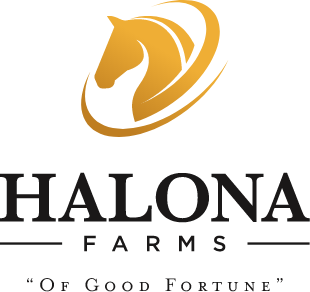 Halona Farms LLC.
879 Rambling Drive Circle
Wellington, Florida 33414
Halona Farms LLC.
879 Rambling Drive Circle
Wellington, Florida 33414